Saint-André Playground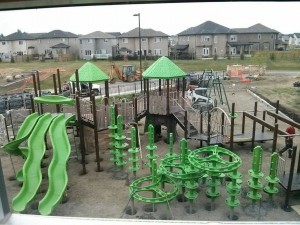 Académie SAINT-ANDRÉ Academy, opened at its permanent location in September 2014. It is a K-9 Catholic school in the Dansereau Meadows neighbourhood of Beaumont. With a new school comes the need for a new playground. Although an essential outdoor component, playgrounds are not included in the government's school capital construction funding.
The Friends of SAINT-ANDRÉ Society is parent group created to attend to the financial needs of Académie SAINT-ANDRÉ Academy. The Society has taken on the task of raising the approximate $335,000 needed to build the new playground.
As of September 2014, we have secured over $305,000 in funding, thanks to the support of our parent community, generous donors, corporate sponsors, and the Community Facility Enhancement Program. It was always our goal to have a playground in place when our school opened. St. Thomas Aquinas Catholic Schools has offered us Bridge Financing to allow us to cover our funding shortfall and build the playground to our full vision in time for the opening of our new school. We will need to pay the balance (approximately $25,000) by June, 2015.
The new playground will be open to the children of Beaumont and be barrier-free, meaning it will accommodate all children regardless of their physical abilities.
We appreciate your continued support as we work to complete our financial goals. We know this playground will be enjoyed by many children for years to come! Please help us realize our dream!