Back to all posts
Posted on
Purdy's Chocolate Fundraiser!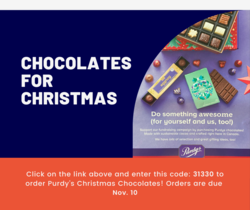 Want to know the most DELICIOUS way to support us? Order Purdy's Chocolates from our fundraiser!  We have been running this campaign for the last 8 years and we have had great success.  Purdy's is a Canadian company and they offer a beautiful selection of gift wrapped confectionery. 
From now until November 10th, you can order Purdy's treats from our fundraiser by joining our campaign and browsing the selection of chocolates online. Shop gifts for family, friends, neighbours, teachers AND yourself in one convenient place. After all orders are submitted, we'll sort, distribute, and let you know when you can collect your goodies. We anticipate order pickup to be close to November 30. 
What you'll need to order:
1.      Our campaign number: 31330
2.      Go to our fundraising website: https://fundraising.purdys.com/1771863-109253
3.      Click "Join Campaign"
4.      Shop away!
5.      Share your personal campaign link with family & friends.  It can be found in the top left corner of your page once you login. If your friends and family use your personal link, their totals will be added to your child's name.
Link to the catalogue:  https://www.purdys.com/media/wysiwyg/GnF/xmas2023/SF-Xmas-Catalogue-2023-v7.pdf 
Thank you for your support.