Back to all posts
Posted on
Recorded Beaumont Community Consultation & Feedback Form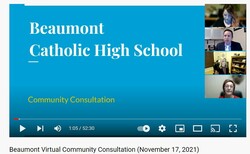 This week, the Division held two virtual group consultations about the current progress on a Catholic high school in Beaumont and a discussion about the implications of reconfiguring our two existing schools to accommodate high school students.
All Beaumont parents and guardians who were unable to join a live event are strongly encouraged to watch the recorded session below in order to provide informed feedback to the Division.
Once you have watched the recorded session, please provide your feedback. The feedback form will close on December 2.