Fundscrip
The SAINT-ANDRÉ Academy Playground Project had partnered with Fundscrip, which is an innovative program where cash rebates are earned on things we buy every day – groceries, gas, restaurants gift cards, electronics, clothing and home renovation products. When you, your family or friends purchase gift cards, which are spent like cash, a rebate goes back to our group! There was no additional cost to you. When you order $150 in gift cards, you pay $150 and you get gift cards worth $150! It's that simple! Over 100 retailers are offering rebates to our group. Thank you to everyone who supported our Fundscrip campaign. This program was an easy way for you to give back to the playground fund without spending any money out of pocket.
Online Donations
The ability to donate online is now available! By simply clicking the "Donate Now!" button above, you can sign up online for automatic recurring withdrawals or use this easy method for a one-time contribution. Online donations can be made anytime, from anywhere making it the easiest way for you or family and friends who live away to donate. Recurring donations can be made in any amount and frequency and will be automatically withdrawn according to your specifications. All personal information is kept safe and secure using today's highest technology standards for payment processing – SafeSave™.
Once you set up your donation, you don't need to worry about anything. All monetary donations of $50 or more will be provided with an income tax receipt. Monthly contributors will receive a tax receipt at the end of each calendar year for all donations throughout that year. How easily $20 per month turns into $180 in 9 months or $100 turns into $1200 in a year when it's automatically set up!
Bottle Collection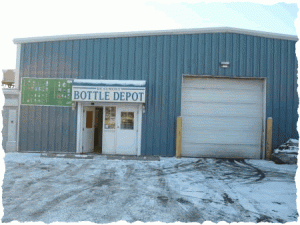 SAINT-ANDRÉ has set up and account with the Beaumont Bottle Depot. If you'd like to help out this manner, please take your empties to the Beaumont Bottle Depot where you can have the proceeds donated to the SAINT-ANDRÉ Playground Fund. After your containers have been counted and you have received your receipt, please put the date, your name, amount and signature on a sheet that is available at the cashier's table. That's all it takes. All donations are greatly appreciated!
Beaumont Bottle Depot
4903 – 51 Street
Beaumont, Alberta
780.929.6405
Pockets for Playgrounds
Another ongoing initiative is for the students of SAINT-ANDRÉ Academy – Pockets for Playgrounds. This special opportunity allows the kids of the school to lend a helping hand by bringing pocket change to school and dropping it into one of the jars found in any of the classrooms or in the school office. Every bit helps and this is a great way for kids to make an impact and understand the gift of giving.